Tuesday 19th May 2020
Having exhausted all possibilities on a Netflix blocked by algorithms, I resorted to watch one of its latest offerings, Extraction. Starring Thor Chris Hemsworth, getting ever more typecast into the action hero role of the Great White Hunter, it's set in Bangladesh -what a welcome surprise! No Hollywood film would ever think that as a film location, with few even knowing the difference between India or where, what and who it is on a map. Ask your average Joe and Josette on that side of the pond what they think of Bangladesh and the likely answer will be 'what?' and if lucky, followed up by 'poor' (this side we have enough Bangladeshis, notably running most of our 'Indian' restaurants, to know what their food tastes like, and that insofar, they exist) .
So what a refreshing take to think hundreds of millions round the world would now be introduced to the country, inevitably exposed to the culture, the backgrounds, the characters.
The opening shot however was not encouraging.
There is a certain mustardy filter that has become a meme among US films, actively promoted by Hollywood and almost every Netflix production. That whenever setting a scene in the Global South (read: poor and hot) you cast a yellow glaze on all things -redolent of a dusty, dirty atmosphere. Dhaka, the capital of 21 million, was seething with it, as if a sudden sand storm had just blown in over the jungles of the world's largest river delta, that sees in 4x the annual rainfall of London. Welcome to a giant broiling city of mass poverty, open drains and endless grit, like a Star Wars or Dune location (incidentally all scenes were actually filmed in India).
This should be called as to what it really is, a poverty filter, and racist projection.
Mexico is particularly prone to this same cast, the minute one steps over the border from a sunny California, and just as avoidant of the glittering city centres in favour of seamy bordellos, desert ranches and shantytowns.
This has its roots in the US Army office in Hollywood. When hiring out its weapons, fatigues and aircraft carriers it operates a PR scheme alongside which one has to agree to. This is understandable, who's gonna lend out work if the crew in question is seeking to take down your establishment? Akin to gearing up a production and helping in all advice, while they advertise how shit and baby-killing you are.
This office has guidelines to toe, and Hollywood has fallen into step. Note how Western (read: White) locales have a certain blue tinge that psychologists put as making audiences alert, whilst promoting a sense of cleanliness and calm. However you'll have to up this tint if dealing with Eastern Europe (notably Russia) to make it uncomfortable -overtly cold, calculating and emotionless, rife with degradation and akin to any horror flick. Meanwhile, we're getting conditioned to warm colours equated to dirt, as any non-Western, poverty stricken nation is assumed to embody.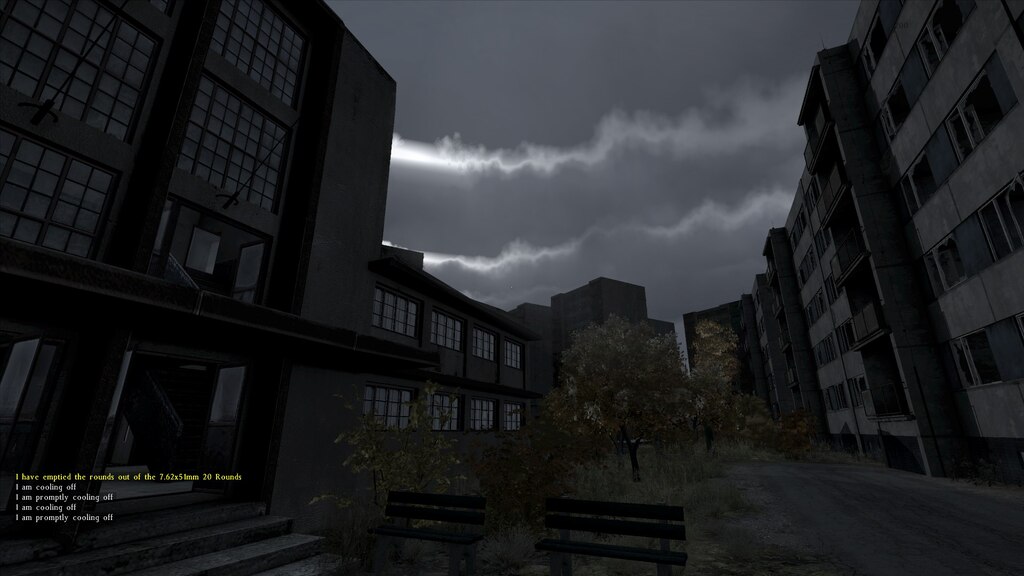 The seminal film that influenced a lot of this was Saving Private Ryan, whose use of desaturated colours became iconic. This in turn led to Black Hawk Down, a film notable in the fact it had to run past an Army and White House committee for approval. Directed by Ridley Scott, its beautiful cinematography and gritty realism at battle proved to be an operatic groundbreaker. Telling the true story of the chopper crew attacked by a mob in Mogadishu, and the ensuing gunfight that killed 19 American soldiers (and led to the withdrawal of the US from Somalia), it showed harrowing shots of firsthand experience.
One scene shows a Somali woman yelling angrily at the soldiers amidst the bullets. The soldier gallantly tries to avoid hitting her, hissing repeatedly at her to scram, but in the end he's forced to shoot and she goes down, mad robes flailing. That snapshot employs the gritty realism the film was noted for, portraying the true-to-life decisions of every soldier, and winning the audience over in droves. -Or did it truly portray things? The reality was not that a few civilians were caught in the crossfire, and that the soldiers ummed and arred about taking one or two belligerent, bloodthirsty innocents down. It does play a bit like Zulu, the civilians shown dancing and gibbering like animals even as they're fired at.
Journalist Mark Bowder who wrote the book on the Battle of Mogadishu even complained about the fake 'realism' in their translation. In reality over 1,000 Somalis died in the battle, not just soldiers but hundreds of civilians callously mown down -albeit posthumously portrayed as armed with AK47s and rocket launchers, or women and children employed as human shields by their own militia. The mob mentality against the US 'peacekeeping' presence in the conflict had long been united by the highest rate of collateral deaths since the Vietnam War, with 500-600 killed (inc. militia) and 2,000 wounded in that short time, plus high profile murders, torture and assaults on civilians committed by US soldiers.
Anyhoo, I digress. This isn't so much an anti-US diatribe (all warring countries commit the same acts of violence and crime abroad – in Somalia Canadian soldiers were also caught torturing civilians), but a stab at the complicit narrative that democracy installs. As philosopher Jacques Ellul points out, democracies have just as extant a use of propaganda as autocracies, exacerbated by the fact just five right-wing families control most of the world's 'free' media.
Anyhooooooo, back to the film. Yes. Great for the acrobatics of camera, with some almost seamless shots following the violence from room to room to window to falling to bouncing to the landing crash below, or out one windscreen into another as the explosion hits. One pounding shot lasts 12 minutes. Directed by Sam Hargrave, the stuntman double for Captain America, these are fight scenes as memorable as the Matrix trilogy, though not as groundbreaking. However, it does fall into a pit of the dated action movie, the formula being the Great White Straight Man/ White savour meme rescuing darkies and mostly shooting them down too. It is a different time these days, and Rambo is no longer as poignant or searingly poetic.
It is the kind of cliché where the American Aussie hero is repeatedly bulletproof even from machine guns a few feet away, is lone in his rescue of the locals, with superior strength and skillsets to be in foreign awe of, and is heartbreakingly haunted by the past. The foreign roles are extras, the one woman (immaculate, ball-breakingly ruthless) hinting at a love history and nothing more, the villains (cackling, hand-rubbing, sadistic) as single-faceted as a stage demon allows.
As farce it's delicious for the ride, though it does repeatedly, weakly try to pretend it's Jane Austen, with guns. You'd easily enjoy it if you forgot the attachments. But fuck you, too late. Nazi baby killers.
As mentioned, Bangladeshis watching this film will be offended for sure. Why Bangladesh? Well, no other country would have their police force mown down as the forgettable baddies, populating each bloodied action shot as unit after unit is gunned, stabbed, run over and er raked multiple times in every available body part as they bumble onto screen. The action starts off in India, but decamps to Bangladesh to portray the entire police as corrupt and in league with the venomous, casually torturing drug lords.
Imagine this, let's take the NYPD. The head honcho of the force gets in league with the cities local mafia don, and orders the arrest of the hero and his rescued kidnap victim. Does Hollywood then wordlessly allow every policeman turning up to become bullet bait, making up the majority of a body count of 183? There would be outrage. No reviewer's picked up on that, despite castigating the film for its plot and ridiculous scenarios, yet missing the disconnect with respect in a portrayal of a people.
This is why the film had to be set in a forgotten, forgettable small country and shot outside it -not India (too large, too important), not Mexico (too close), not the Middle East (too sensitive, plus a nasty reminder gunning down the civilians is what we do), not Eastern Europe (too White, the audience might notice/ identify that those being mullered are actually humans). Africa? NO, don't even think abouddit, that just wouldn't look good for er, historical reasons. Despite having a population of 165 million, none of these Bangladeshis matter, none of their voices deserve to be heard, slinking onto screen to be unworthy and fully deserving of their coming demise.
To finish off, some images of the city. We're not going to pretend it isn't poor, it isn't sweatshoppy, it isn't hot and steamy. But there's more to it than a vast, festering crime-slum. Welcome to Dhaka.